No matter your reason for using our Mobile Storage Rentals service, our #1 priority is making sure your belongings are safe so you can focus on more important things – like moving your family. 

Our storage solutions give you lots of time to load and unload your container on your own schedule. Whether you're painting, installing new flooring, downsizing, upgrading, adding an addition, or renovating your business, you'll have peace of mind knowing your belongings are safe and sound. 



So how does it work?

We make it an easy and stress-free experience, from dropping off your storage container to picking it up from your new home. That's because:


You load once and unload once. That's it. 

You don't have to worry about renting (or driving) trucks.

It's a cheaper solution than hiring a moving company.

It gives you the time and space to declutter, renovate and stage your home so you can get it on the market faster and sell it for what it's worth.
You'll have flexibility in case of different home closing dates.
It provides clean, rodent-proof, weather-resistant storage that you can trust.
All of our truck drivers are fully trained.
No place to store it? That's okay, we can store it in our secure site.
It's great for long or short-term storage, depending on your moving plans.

Here are the five simple steps you can expect when using our Mobile Storage Rentals  service.

Step One: Prepping for Your Container
Before your storage container is delivered, there are a few things you can do to prepare:
Take some time to measure your delivery space before deciding which size of container to rent. 

A container requires 14 feet of vertical clearance and (depending on the dimensions) you will need roughly 10-20 feet to accommodate a container.

The delivery truck will require an additional 35 feet of space.

Please ensure overhead wires, branches, or overhangs do not prevent delivery.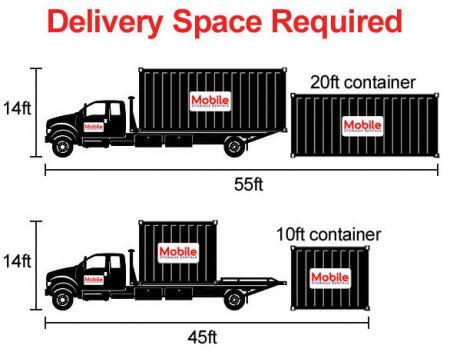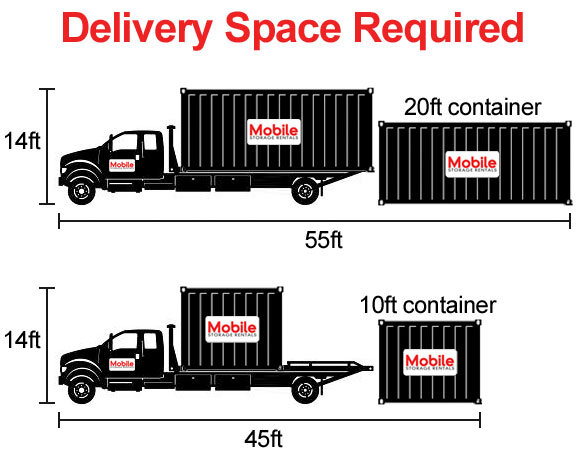 How do you know which size of container is right for you?

Ask yourself: 
How much furniture do you own? 

Do you have many heavy or awkwardly shaped items?

Do you have a lot of existing storage space? (Think of garages, sheds, cold cellars, and closets full to the brim with your things.)

Do you have items that are more delicate and susceptible to damage, like leather furniture, mirrors, or artwork?


Step Two: Container Delivery
With a Mobile Storage Rentals storage container, transportation is easy and convenient. You select the size of container and delivery date, and your portable storage container will be delivered right to your door by one of our trained operators.

Once the container is dropped off, you're ready for the main event – packing!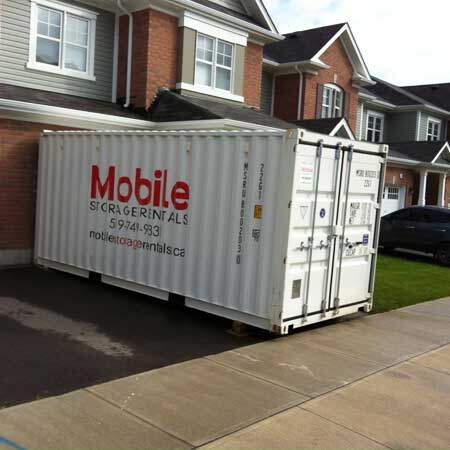 Step Three: Pack Your Container
One day to move an entire house of possessions is a huge task that most people dread.

Who wouldn't?

That's why our mobile storage solutions take the "one day rush" out of moving, allowing you to pack at your own pace.
 
Another huge benefit? You'll only have to load and unload once. Plus, you can take a couple of days, a week, or a month to get it done – the only schedule you need to worry about is your own. 

Our containers cost a third of the price of movers, with the added benefit of your storage container being steps from your front door. Remember to pack your container contents evenly and tightly to prevent shifting (we have more tips for packing your storage container here.)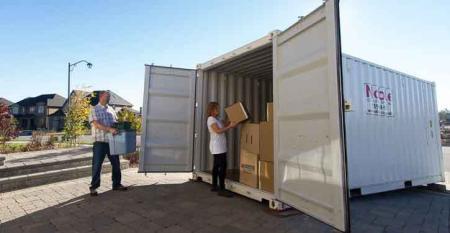 Step Four: Store Your Container
You can store your weather-resistant storage container just steps away from your home, so you can pack and access items at your leisure.

Not ready to move in yet? No problem! We can store your belongings at one of our secure storage yards. When you're ready, we'll deliver your container to your new home or office.

Our containers are the largest and most secure in the industry. Each one is ISO certified, waterproof, and meets the standard for shipping dry goods all over the world.

Is a storage container not quite right for you? Our storage units and PODs have often been used to provide safe and secure storage for:


Moving
Renovations
Events and parties
Emergencies
On-site storage during construction
University student storage
And even movie production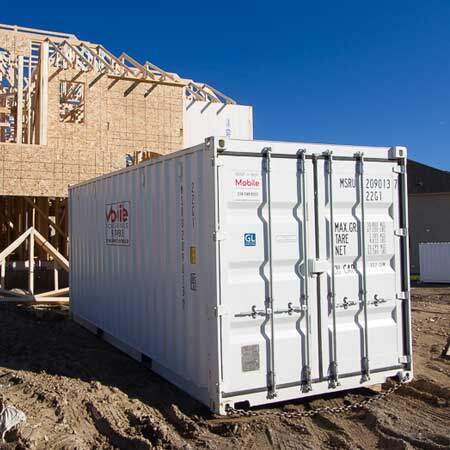 Step Five: Container Pick Up
When you're ready to move, one of our certified drivers will pick up your portable storage container and move it to your new home or office. If your contents are going to another area or our storage facility, you can rest easy knowing that our drivers keep a steady pace to prevent any of your belongings from shifting or becoming damaged.

The loading process gently tilts the container, with the maximum angle being no steeper than the truck going uphill. Once it's on the truck, our driver will safely deliver your container.

You can then unpack your storage container on your own schedule, and when you're ready we'll pick it up.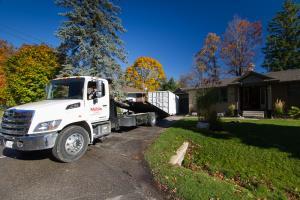 Interested in hearing more? You can request a free quote from our team here.