No matter your reason for using our Mobile Storage Rentals service, our #1 priority is making sure your belongings are safe so you can focus on more important things – like moving your family. 

Our storage solutions give you lots of time to load and unload your container on your own schedule. Whether you're painting, installing new flooring, downsizing, upgrading, adding an addition, or renovating your business, you'll have peace of mind knowing your belongings are safe and sound. 

pick up your portable storage container and move it to your new home or office. If your contents are going to another area or our storage facility, you can rest easy knowing that our drivers keep a steady pace to prevent any of your belongings from shifting or becoming damaged.

The loading process gently tilts the container, with the maximum angle being no steeper than the truck going uphill. Once it's on the truck, our driver will safely deliver your container.

You can then unpack your storage container on your own schedule, and when you're ready we'll pick it up.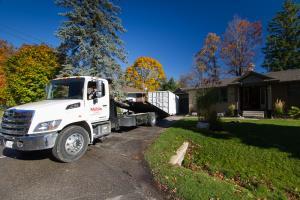 Interested in hearing more? You can request a free quote from our team here.